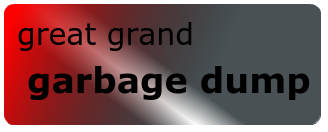 ranting
aka screaming about stuff
disclaimer: if you do not agree with what i state, please kindly leave. any temper tantrums will be met with ignorance.
1-13-20: uh
nobody likes swiss cheese and that makes me A N G E R Y
11-26-19: society is fucking stupid
In case you haven't noticed already, we as a species have reached a humongous problem:
THERE IS NOT ONE PERSON ON THE FUCKING PLANET THAT CAN SAY A SINGLE WORD WITHOUT BEING BOMBARDED BY CRITICISM.
I'm serious. Literally nobody can say anything anymore. The only reason you're seeing this is because this is my ultimate safe house, where i can actually say anything and have people listen.

THE ISSUE

People are so sensitive these days that they mentally can not comprehend the concept of fallibility, in particular regarding themselves. They simply can not grasp the fact that they can be wrong. And they can't understand the fact that other people might disagree with them. If someone says one itty-bitty thing that someone else disagrees with, that someone else will scream like a fucking banshee. And if you say something mildly controversial in public, you get a thousand banshees. All screaming. At you. If you say something a little more controversial, people will start harrassing you. If you say something that is even more controversial, you suddenly have the entire population of florida swarming around you, each person a howling savage trying to kill you.

Yeah, it's fucking bullshit.
And do N O T get me started on politics. That multiplies everything that people scream about to the power of 53 factorial.
And guess what?
That's not even the worst part.


The worst part is that we can't do anything about it.

Why? Because nobody will listen to anyone else.
Nobody gives you a chance to speak your mind, because the second they detect a differing opinion they start yelling like fucking animals! They interrupt any hope of you ever talking, ecause they start firing off insults about how you are a racist prick that wants nobody to ever have any shred of being happy ever again. Because you said that normal milk is better than chocolate milk. And they somehow jump to the conclusion that this means you are a white supremacist.

Whether people do this consciously or not, we don't know. But it happens anyway.




This.




Needs.




To.




Fucking.




STOP.

It does not matter who you are. Your political standing, your opinion, your age, appearance, sex, race, or anything else about you. EVERYONE faces this problem.
what you can do about this insanity
There is one lesson I have learned that has gotten me very far in life.
"The art of not giving a fuck is incredibly difficult to master. But when you DO master it, it is the most powerful tool you can use."
-My Father
That's right.
Not giving a shit can solve this problem.
If you do not give the person screaming at you the satisfaction of getting their point across, they will inevitably stop trying.
This is obviously very generic advice. But with my experience on the internet, it works.
Conclusion
If you've ever gone to the zoo, you already know how we can stop this issue.
Don't feed the animals.
Thank you for coming to my TED talk.
And thank you for listening.